Welcome to helenfall.com! Helen is a performer and instructor of viola, violin, chamber music, and orchestral music. Explore the site to find out more.
Helen Fall Performance Bio
For teaching information, please visit the Studio Resources page.



How Does Music Benefit the Brain?
Research shows that music greatly benefits the brain. Read the article.
Studies reveal musical training in childhood aids language learning ability
Just one hour a week of musical interaction greatly increases linguistic aptitude, even into adulthood. Read the article from The Strad magazine.
New Statistics Linking Music Education to Cognitive Development
It's long been accepted that music education helps students become more prepared for a lifetime of learning. New studies now show statistical evidence linking music lessons to measurable gains in focus, discipline, and critical thinking, meaning the connection between music and learning is now stronger than ever. Read more.
That 'Useless' Liberal Arts Degree Has Become Tech's Hottest Ticket
From Forbes Magazine: Big tech employers are widening their hiring horizons beyond the STEM fields: science, technology, engineering and math. Larry Quinlan, Deloitte's chief information officer, argues in favor of "STEAM," in which the A stands for the arts. "It's not enough to be technologically brilliant," Quinlan says. "We need senior people who understand business processes, too." Read more.
Arts Education Fuels the Economy
We all know that studying music and art is good for your brain, but did you know that the arts are also good for the economy? Read why here.
A Musical Fix for American Schools
From the Wall Street Journal: More evidence that keeping music programs in schools helps boost IQ, test scores, creative thinking for scientists, and the list goes on.

KUDOS TO STELLAR STUDENTS!
BRAVI to the students who performed in the Springfield Music Club Spring Festival on March 9th. With one exception, all students performed in two events: 1) Concerto Event, performing a concerto movement and 2) Solo Event, performing two contrasting selections. All works were performed from memory, and ALL students received ratings of SUPERIOR!! The judges' comments were spot on, and super helpful. We'll review them at your lessons. Special shout out to studio pianist, Laurie Bunn, who was complimented by the judges for her sensitive collaboration.
Students who performed: Brooke, Lynelle, Audrey, Clara, Tyler, Jason, David, and Crystal.
Brooke has been accepted to Brigham Young University, and to the BYU School of Music. She will pursue a degree in Music Education begining next fall. BRAVA!!!
At the February 24th All-State Orchestra Auditions, Brooke placed 8th among violins. Among violas, Jason placed 2nd, and Tyler placed 5th. Bravi!!!!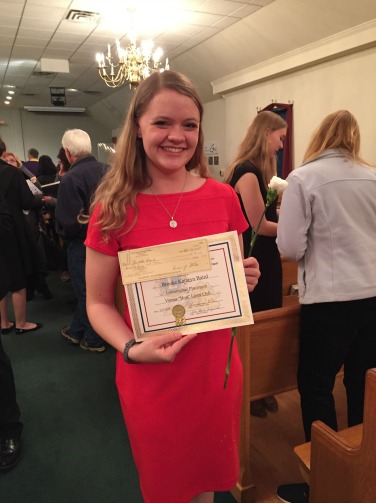 Brooke was awarded 2nd place for her performance in the February 17th Vienna "Host" James Bland Competition! Brava!!!!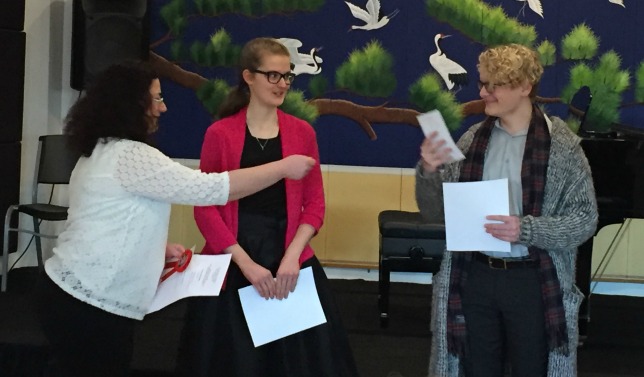 John was awarded 1st Place for his performance in the January 27th NVMTA Concerto Competition, Intermediate Low Strings Division! Bravo!!!!
Brooke was awarded an Honorable Mention for her performance at the January 13th NVMTA Judged Recital. Brava!!!!
John received an Honorable Mention from the US Army Young Artist Competition. He has been invited to play in with the Army Orchestra at their concert on Friday, May 11th at 7:30pm in the Rachel Schlesinger Concert Hall. Bravo!!!
***********************************************************
2017-2018 Orchestra Honors
BRAVI to these Stellar Students!!
Virginia All-State Orchestra
Violin: Brooke, #8
Viola: Jason, #2
Tyler, #5

Northern Senior Regional Orchestra
Brooke, Section 1st Violin
Jason, Principal Viola
Tyler, Section Viola
North Central Senior Regional Orchestra
David, Section 1st Violin
District 12 Senior Honors Orchestra
John, Principal Viola
District 11 Senior Honors Orchestra
Crystal, Assistant Principal Viola
Audrey, Section Viola
District 11 Junior Honors Orchestra
Clara, Section 1st Violin
AYPO Orchestras
Symphonic Orchestra
John, Principal Viola
Crystal, Section Viola
String Ensemble
Clara, Section 1st Violin
TCSYO Orchestras
Symphonic Orchestra
Jason, Principal Viola
Tyler, Section VIola
Langley High School
Brooke, Concertmaster
Thomas Jefferson High School for Science and Technology
Jason, Principal Viola
Lake Braddock High School
Crystal, Principal Viola
Herndon High School
John, Principal Viola
Battlefield High School
David, Assistant Concertmaster
Williamsburg Middle School
Lynelle, Assistant Concertmaster
***********************************************************
MARCH MASTERCLASSES
Group B welcomed new violin student, Kate! She performed the 3rd movement of the Seitz Violin Concerto No. 2.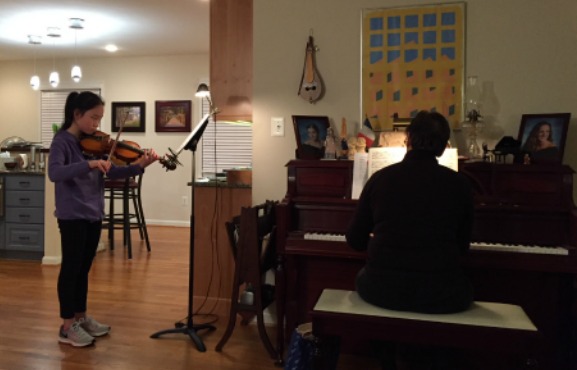 **********************************************************
UPCOMING PERFORMANCES: STUDENTS
Friday, April 13
District 11 Solo & Ensemble Festival at Rachel Carson MS
Clara will perform Csardas by Vittorio Monti
Jason will perform Allegro Appassionato by Frank Bridge
Audrey will perform Vocalise by Rachmaninoff
Isabella will perform Donkey Doodle by William Kroll
Crystal will perform Meditation by Ernest Bloch
District 12 Solo & Ensemble Festival at Cooper MS
Cady will perform Mazurka by Emil Mlynarski
Lynelle will perform Introduction & Polonaise by Carl Böhm
John will perform Gondoliera by Frank Bridge
Sunday, April 15
NVMTA General Recital
Lynelle will perform Introduction & Polonnaise by Carl Böhm
Crystal will perform Allemande from Bach Suite No. 1 in G and Meditation by Bloch
Sunday, April 29
NVMTA Strings Judged Recital
John will perform Prelude from Bach Suite No. 3 and Gondoliera by Bridge
Tyler will perform Chahagir by Hovhaness and Hopak by Moussorgsky
Jason will perform movement 1 from Märchenbilder by Schumann and Allegro Appassionato by Bridge
Saturday, May 5
NVMTA Strings Achievement Competition (Caurine Easterling)
Brooke will perform the Sarabande from Bach Partita No. 2 and Romanian Dances by Bartok.
John will perform the Prelude from Bach Suite No. 3 and Gondoliera by Bridge
Jason will perform movement 1 from Märchenbilder by Schumann and Allegro Appasionato by Bridge
Tyler will perform Chahagir by Hovhaness and Hopak by Moussorgsky
Crystal will perform the Allemande from Bach Suite No. 1 and Meditation by Bloch
Sunday, May 6
Fairfax Symphony Feuer Competition
Brooke will perform the 1st movement of the Saint-Säens Violin Concerto in b
Saturday, May 12
Brooke Baird Senior Recital!
3:00pm
Brooke will perform a complete recital celebrating her high school graduation and future study at Brigham Young University. On the program are works by Bach, Saint-Säens, Elgar, and Bartok.
Friday, May 18
25th Annual Fall Studio Spring Recital
Truro Chapel
7:00PM
All students will perform! It will be a celebration of the end of a Fabulous Year of Music Making! Invite your friends, family, and teachers!
Check the Studio Resources/Parent Resources page for directions.
***********************************************************