Welcome to helenfall.com! Helen is a performer and instructor of viola, violin, chamber music, and orchestral music. Explore the site to find out more.
Helen Fall Performance Bio
For teaching information, please visit the Studio Resources page.



How Does Music Benefit the Brain?
Research shows that music greatly benefits the brain. Read the article.
Studies reveal musical training in childhood aids language learning ability
Just one hour a week of musical interaction greatly increases linguistic aptitude, even into adulthood. Read the article from The Strad magazine.
New Statistics Linking Music Education to Cognitive Development
It's long been accepted that music education helps students become more prepared for a lifetime of learning. New studies now show statistical evidence linking music lessons to measurable gains in focus, discipline, and critical thinking, meaning the connection between music and learning is now stronger than ever. Read more.
That 'Useless' Liberal Arts Degree Has Become Tech's Hottest Ticket
From Forbes Magazine: Big tech employers are widening their hiring horizons beyond the STEM fields: science, technology, engineering and math. Larry Quinlan, Deloitte's chief information officer, argues in favor of "STEAM," in which the A stands for the arts. "It's not enough to be technologically brilliant," Quinlan says. "We need senior people who understand business processes, too." Read more.
Arts Education Fuels the Economy
We all know that studying music and art is good for your brain, but did you know that the arts are also good for the economy? Read why here.
A Musical Fix for American Schools
From the Wall Street Journal: More evidence that keeping music programs in schools helps boost IQ, test scores, creative thinking for scientists, and the list goes on.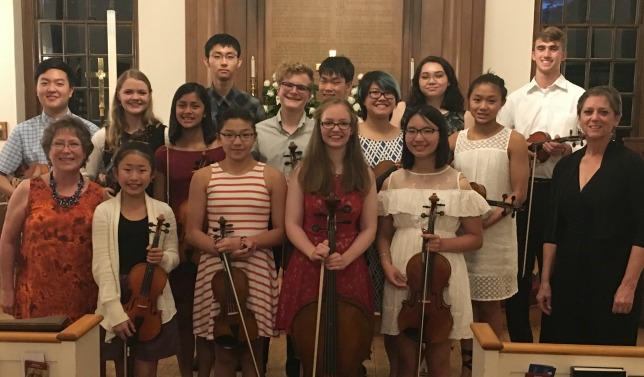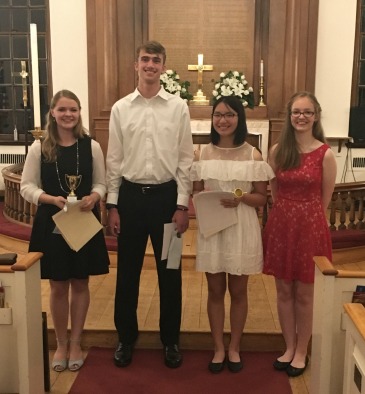 KUDOS!!
Bravi to ALL STUDENTS for an absolutely Stunning Spring Recital on May 2!! This one goes down in the record books as a Magnificent Memory!!
A thousand thank yous to Mr. Do for his videography service! Everyone should have received a recording of his/her performance by now.
Saturday, May 20: Nancy Kredel Studio Recital
Jason returned to perform the Brahms Scherzo one last time in his former teacher's Studio Spring Recital. Thanks to Ms. Kredel for sending Jason to join us. I am sure she was a proud teacher, having him return.
Sunday, May 9: NVMTA Honors Recital
Brooke and Jason were invited to play in this recital after being awarded Honors at the April 30th Strings Judged Rectial. They each performed an encore performance of their Spring Recital selections, Malagueña by Sarasate, and the Brahms Scherzo, respectively.
Brooke, David and Jason performed in the May 6th NVMTA Strings Achievement (Caurine Easterling) Competition. David was awarded Honorable Mention, and Brooke 2nd place (and $50!) in the Upper Strings Senior Division. Jason was awarded 3rd Place (and $25!) in the Intermediate Lower Strings Division!! Way to go!!
Brooke, John and Jason performed at the April 30th NVMTA Strings Judged Recital. Brooke and Jason were selected for Honors, and invited to play at the May 14 NVMTA Honors Recital!
Audrey, Jason, Isabella and Mia performed at the April 28th District 11 Solo & Ensemble Festival. All received Superior Ratings.
Bravi to all!!

***********************************************************
UPCOMING PERFORMANCES - Students
Thursday, June 8: McLean High School Orchestra Concert
Lia will be performing as a Senior Soloist, playing movements 1 and 2 of the Telemann Viola Concerto in G with the McLean HS Philharmonic Orchestra!! Break a leg, Lia!!
***********************************************************
SUMMER CAMPS!
Please look for the red basket in the bookcase in the waiting room for summer camp brochures that I have received. I will continue to forward information to you, as I receive it, by email.
Check out the studio website for other recommended camps to explore (Studio Resources/Student Resources). The list includes camps that are well-respected, and who employ excellent teacher/coaches.
Bravi to all!!
**********
Bravi to the following Fall Studio Students for Successful Auditions and Performances in the following orchestras (2016-2017):
2017 Virginia All-State Orchestra
David and Brooke violin section.
Jason viola section.
Tyler came in as First Alternate Viola! Next year!!
2016 Northern SRO Orchestra
Brooke - Section First Violin
Jason - Assistant Principal Viola
Tyler - Section Viola
2016 North Central SRO Orchestra
David - 1st violin section
2016 District 12 Honors Orchestras
JDO - John
2016 DIstrict 11 Honors Orchestras
SDO - Audrey & Crystal
AYP Symphonic Orchestra
David - Co-Concertmaster
AYP Concert Orchestra
John - Principal Viola
AYP String Ensemble
Clara - Section 2nd Violin
Concertmasters and Principals
Audrey - Principal Viola, WT Woodson HS
Brooke - Principal 2nd Violin, Langley HS
John - Principal Viola, Herndon MS
Maddy - Principal VIola, Holton-Arms Upper School
Isabella - Assistant Concertmaster, Robinson Area Orchestra